YouTuesday: K-Pop On The Cover
Es un hecho innegable para cualquier generación de músicos, que existan individuos que hayan seguido y admirado la carrera musical de otros artistas, habiendo sido su principal fuente de inspiración al llegar para llegar a los escenarios e influyendo día a día en su quehacer artístico.
Esta edición de YouTuesday está dedicada a esos artistas de K-Pop que han realizado covers de canciones inmortales del siglo XX imprimiendo su estilo particular en cada interpretación.

Brown Eyed Girls – You Raise Me Up
Con especial dedicatoria para las víctimas del terremoto ocurrido en Haiti en 2010, el cuarteto femenino Brown Eyed Girls ofreció una interpretación profunda del hit del dúo irlandés-noruego Secret Garden, tema inspiracional que ha sido interpretado por grandes voces como Josh Groban, Il Divo, Sissel, Russel Watson, Michael Ball, Lena Park, entre otros.

Crash – Smoke On The Water
Considerada como uno de los temas esenciales para las bandas dedicadas a los covers de rock clásico, la banda thrash metal Crash la hace completamente suya después de la magna interpretación vocal de Ahn Heung-chan y una musicalización que envigoriza el gran clásico de Deep Purple.

Yang Hyun-Suk (de Seo Taiji & Boys) – Without You
Previo a interpretación de Mariah Carey que inmortalizó el tema por segunda ocasión, Yang Hyun-Suk, fundador y presidente de YG Entertainment, quien alguna vez formó parte del legendario trío Seo Taiji & Boys, cantó con guitarra en mano el clásico de Badfinger durante el concierto '93 Last Festival en una grabación en vivo que ha quedado para la posteridad.

Lee Huyk (de Norazo) – Endless Rain
Para quienes no hayan conocido el trabajo musical de Lee Huyk antes de la formación del dueto Norazo, podrá ser de extrañar esta interpretación tan profunda de la que es considerada como una de las baladas esenciales de la legendaria banda de rock japonesa X-JAPAN.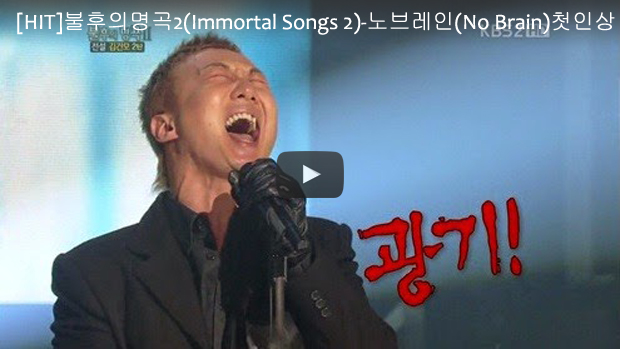 No Brain – First Impression
Como un acto completamente fuera de lo común para sus raíces musicales y para la televisión, la banda de punk No Brain tomó uno de los temas clásicos de R&B de Kim Gun Mo de los '90s y lo transformó en una canción completamente diferente, sacudiendo al show 'Immortal Song 2' con una imponente propuesta de gothic rock.