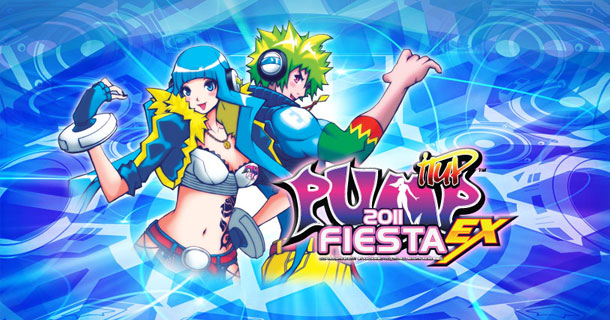 Después anunciar su lanzamiento a través de su último video preview publicado en la página oficial de Pump It Up en Facebook, finalmente Andamiro pone a disposición de sus usuarios la actualización Fiesta EX v1.50, la cual contiene una de las características más esperadas desde siempre: UCS (User Custom Step).
Las características añadidas en esta actualización son:
• Soporte UCS (User Custom Step)
• Nuevos temas de la próxima versión de PIU (disponibles para el PIU Stepmaking Contest)
• Nuevos temas
• Nuevos stepcharts
• Contenido de PumBI desbloqueado
• Corrección de bugs
A continuación una descripción detallada de cada una de las nuevas características de Fiesta EX v1.50.
El tan esperado sistema User Custom Step es un software de Andamiro para plataforma Windows que permite a sus usuarios crear stepcharts de su propia autoría de cualquiera de los temas contenidos en Fiesta EX, los cuales pueden ser descargados en la página oficial del software dentro de PIUGAME. Como objeto del PIU Stepmaking Contest, se eligieron 12 temas que serán incluidos en la próxima versión de PIU cuyos stepcharts más votados tendrán la posibilidad de ser integrados como steps oficiales. Los temas contemplados para el evento son:
Monolith – Affinity
Switchback – Celldweller
Ladybug – Coconut
Hardkore of the North – Diclonius Kid
Rippin' It Up – Future Funk Squad
Tribe Attacker – Hi-G
Virtual Emotion – Inspector K
Heel and Toe – KURi-ZiLL
Deadbeat Boyfriend – Lucky Princess
Rainspark – Sanxion7
Be Alive (Raaban Inc. Mix) – Stian K
Star Command – Zircon
Aparte de los temas anunciados en los previews de la actualización, adicionalmente fueron agregados los elementos de la lista de temas de PIU Stepmaking Contest, los cuales son accesibles en Basic Mode una vez efectuado el proceso de actualización.
Los nuevos temas de la actualización Fiesta EX v1.50 son:
Jonathan's Dream – MAX&Seorryang (SID-SOUND)
ASDF – Doin
Pine Nut – Doin
Estos temas están disponibles solamente en Full Mode.
Además de los nuevos stepcharts revelados en meses anteriores, se incluyó una extensa colección de stepcharts alternos para poco más de 90 temas en dificultades tanto para jugadores principiantes como intermedios.
Cleaner – Doin [Single 4, 7, 12]
Reality – SHK [Single 8]
Butterfly – MAX & Rorychesell (SID-SOUND) [Single 8]
We Got 2 Know – MAX [Single 1]
Shock – BEAST [Single 8]
Last Farewell – Big Bang [Single 8]
No.3 – Bae Chi Gi [Single 9]
Like A Man – Outsider [Single 4]
Crashday – Crash [Single 4, 6, 11]
What Happened – Throwdown [Single 3, 7, 12]
Gargoyle – Sanxion7 [Single 4, 7]
The Devil – Banya Production [Single 4]
Native – SHK [Single 3, 5]
Smells Like A Chocolate – Vospi [Single 4, 6]
Necromancy – Zircon [Single 4, 7]
Crashday Full Song – Crash [Double 22]
Rave Until The Night Is Over – DM Ashura feat. MC Jay & Veronica [Single 2]
XTREE – YAHPP [Single 3]
Betrayer act.2 – msgoon [Double 15]
By chance – Baby V.O.X [Single 5]
U Got 2 Know – MAX [Single 2, 7, 8]
Twist King – Turbo [Single 10]
Fire – 2NE1 [Double 14]
NARCISISTA POR EXCELENCIA – PXNDX [Single 3]
No Rhyme No Reason – LTJ X-Perience [Single 8]
80's pop – Energy presents [Single 8]
Phantom -Intermezzo- – Banya Production [Single 3, 7]
Blaze Emotion – YAHPP [Single 3, 6, 9]
CannonX.1 – YAHPP [Single 7]
La La La – Big Bang [Single 1]
Adios – Ji Won Eun [Single 1]
Forward – DJ Missill [Single 2]
Crazy – Gyfted [Single 2, 4, 8]
Digan Lo Que Digan – Nina Pilots [Single 4, 7, 9]
DJ Otada – Banya Production [Single 6]
K.O.A : Alice In Wonderworld – Banya Production [Single 2]
Final Audition Ep. 2-X – YAHPP [Single 3, 5]
Pumptris 8Bit ver. – YAHPP [Single 3, 5, 8]
Caprice of Otada – Banya Production [Single 6]
Higgledy Piggledy – Banya Production [Single 9]
Dance Vibrations – Elpis [Single 4]
Energizer – Zig Zag [Single 4, 7]
Witch Doctor #1 – Yahpp [Single 2, 5, 8]
Arch of Darkness – Yahpp [Single 2, 5]
Bullfighter's Song – Banya Production [Single 4]
Ugly Dee – Banya Production [Single 3, 5, 9]
Beat of The War 2 – BanYa [Single 4, 6]
Moonlight – BanYa [Single 4]
Witch Doctor – BanYa [Single 4, 6, 10]
Love is a Danger Zone pt. 2 – BanYa [Single 9]
Phantom – BanYa [Single 2, 7]
Papa Gonzales – BanYa [Single 4, 8]
Enter The Dragon – JTL [Single 8]
I'll Give You All My Love – Wax [Single 2]
J Bong – BanYa [Single 3, 8]
Hi Bi – BanYa [Single 5]
Solitary 2 – BanYa [Single 4, 8]
Canon D – BanYa [Single 9]
Final Audition 3 – BanYa [Single 2, 5, 9]
Blazing – BanYa [Single 9]
Pump Me Amadeus – BanYa [Single 3]
X Treme – BanYa [Single 4, 7]
CHICKEN WING – BanYa [Single 4, 6, 9 / Double 17]
Final Audition Ep. 1 – BanYa [Single 4, 7]
Bee – BanYa [Single 7, 10]
Beat of The War – BanYa [Single 3, 9]
Come to Me – BanYa [Single 4]
Dr. M – BanYa [Single 9]
Emperor – BanYa [Single 2, 8]
Love is a Danger Zone – BanYa [Single 10]
My way – BanYa [Single 3, 8]
Will o' The Wisp – BanYa [Single 3]
Oy oy oy – BanYa [Single 4]
Set me up – BanYa [Single 2, 4, 6]
Dance with me – BanYa [Single 2, 4, 6]
Vook – BanYa [Single 4, 7]
N – BanYa [Double 16]
Slam – Novasonic [Single 9]
Betrayer – BanYa [Single 1, 13]
Solitary – BanYa [Single 2, 4, 8]
Mr. Larpus – BanYa [Single 3]
Run to you – DJ DOC [Single 2, 7]
Final Audition 2 – BanYa [Single 4, 7]
Naissance – BanYa [Single 4, 8]
Turkey March – BanYa [Single 3]
Free Style – BanYa [Single 13]
We Are – DEUX [Single 2]
Final Audition – BanYa [Single 2, 6, 9]
Extravaganza – BanYa [Single 4]
Com'Back – Sechs Kies [Single 8]
Mobius Strip – Sechs Kies [Single 2]
Repeatorment Remix – BanYa [Single 19]
Another Truth – Novasonic [Single 8]
A pesar de la infiltración del software EX Dragon en el sistema de Fiesta EX, y a pesar de la creación de los parches v1.41-v1.43 para la corrección del contenido corrupto, se decidió liberar todo el contenido bloqueado de PumBI en esta actualización.
Frente al retraso que sufrió el lanzamiento de Fiesta EX v1.50 se puede inferir que una de las causas, además del licenciamiento de temas musicales, fueron los resultados del uso de EX Dragon, lo cual permitió al equipo de desarrolladores de Andamiro identificar diversas vulnerabilidades en la seguridad del sistema de Fiesta EX.
Fiesta EX v1.50 | Download
Fuente | Pump It Up Official Facebook Page (International)